01.02.12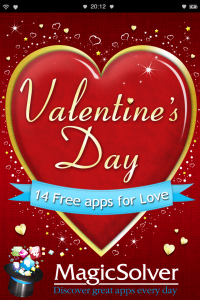 Only 14 days left until Valentine's Day arrives and today we are releasing our brand new Valentine's Day 2012: 14 free apps for love. Which means that today has officially started the Valentine's Day 2012 countdown!
Download it right now and get a free apps tailored to your interests. Whether you are single or in a relationship we will make sure that this year everyone will get in the mood for this special day.
In addition to that, today starts the funniest Facebook contest, where we will like to hear the story of your most embarrassing date?
How does it work?
Go to our MagicSolver Fan Page: http://on.fb.me/MagicSolverFacebookFans and press the "Like" button
Post your experience and share it with your friends to see which is the funniest, embarrassing and most unbelievable story.
The deadline to post you story is 13th February. On the 14th February we will reveal the winner.
The winner will be the person who posts the most authentic story.
The price is a surprise that will be revealed on the following days… 😉
And we will also be posting great tips, surprises and ideas for you to start planning what to do on the Valentine's Day!
Download Valentine's Day 2012: 14 free apps for love now from the Apps Store: https://bit.ly/iPhoneValentine2012
Tags: 14, 2012, amor, app, apps, countdown, enamorados, February, free, iPad, iphone, iPod, love, lover, magicSolver, relationship, romance, San Valentín, seduction, single, Valentine's