09.05.13
May is National Share-a- Story-Month, a time to get children interested in books and reading by spinning a few of your favourite yarns to a young audience. Anything that gets the wee stripling's nose in a book or fires their imagination can only be a good thing. Of course, thanks to the advancement of technology in smartphones, tablets and apps, the humble children's book has had an interactive transformation. Whippersnappers can now enjoy stories through touchscreens, complete with cool animation, educational mini games, sound effects and interactive flourishes. So to celebrate the art of storytelling and to encourage kids to read, we have hand-picked three of the most interactive and exciting Children's Book apps available on the virtual book shelves.
The Cat In The Hat – Dr. Seuss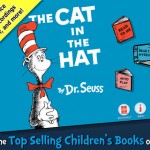 Undoubtedly one of the greatest children's books ever, Dr. Seuss rhyme, rhythm and repetition-tastic tale is a great way for kids to learn to read – and be entertained in the process. The apps features are all geared for improving literacy – words zoom up and are spoken when pictures are touched while individual words can be highlighted and read aloud when tapped. But one of the coolest features is the ability to record your own storytelling voice and share it with other users of this app. But if you're too self-conscious about dubbing your own narration you can still rely on pro actors to weave this catty tale.
Little Red Riding Hood by Nosy Crow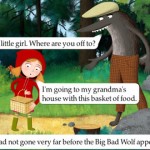 "Grandma, what big teeth you have!" The story of Little Red Riding Hood is well told but Nosy Crow has giving it a twist, offering eight different storypaths with eight different endings. These alternative endings are designed to hold the kids attention over time while there are items to collect along the way that will beat the wolf at Grandma's house. The words spoken by a young narrator are highlighted in red so they can read along while, in one chapter, the young readers can see their own face reflected in a pond using the iPhone or iPad's front facing camera. Nice touch.
Beauty and the Beast – 3D Interactive Pop Up Book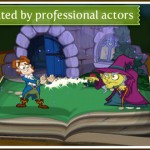 This Fairytale, where the underdog gets his girl, receives a virtual pop-up book treatment. It features stunning 3D animation and extra puzzles and mini games (including a round of Ping-Pong!) to engage kids further.  There are eight different pop-up scenes woven into the story and you can choose to read the story yourself or have it narrated to you by professional actors. It also boasts a soundtrack and zinging sound effects to spice up this classic fable. And another advantage of using this app is the wee bairns can't rip, chew and destroy the pop-ups unlike those on traditional physical story books.
Tags: Applications, apps, apps discovery, Beauty and the Beast 3D, Children's Book apps, Discovery, Dr. Seuss, Free App Magic, FreeAppMagic, interactive books, interactive pop up book, iOS, iPad, iphone, iPod, Little Red Riding Hood, magicSolver, mobile apps, National Share-a-Story-Month, news, smartphones, tablet, tech, technology, The cat in the Hat, Top 3, top apps