20.09.13
One of the defining trends since smart devices arrived in our pockets has been the quest for the perfect sized screen. With buttons being chucked out of the window at the same time as the "dumb phone", device makers have been trying to get their display size just right to tempt in the consumers and help developers to make great apps for them.
This, however, has proven a surprisingly tricky challenge. While Steve Jobs was dominating the industry, most people agreed that the iPhone 4S was the perfect screen size for a mobile device. Then, after the arrival of nine inch tablets and big screen Android phones, the answer seemed to be that the bigger the screen is, the better the experience for the user.
But after the success of the seven inch iPad Mini had game developers and players raving after launch last year, it seemed to us that no-one really knows which is the best screen size to tuck into apps on.
So when we got our hands on the Samsung Galaxy Note 2, it was a great chance for us to find out whether the so called "phablet" (a smart device that sits between tablets and phones in screen size) would fit the bill.
Clocking in with a five and a half inch screen, the Galaxy Note 2 is really on the edge of what you'd call a handset. Despite coming with a stylus which the manufacturers hope will get you holding the device like a journalist's jotting pad, you either need to hold it two handed or cradle it on something to really use it comfortably. It means that as a phone or texting device, it's not that comfortable to use and holding something so bulky up to your ear is bound to get you odd looks.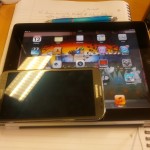 It's when you get to using it for apps though that you appreciate how a phablet could prove mighty handy for app enthusiasts. On a gaming front, the note is one of the best handsets I've used for that purpose. Partly it's because of the quad core processor and high def screen but mostly it's due to the unique phablet design that helps create a uniquely powerful gameplay experience.
I tested out three games and found they all benefitted from being on the Note 2. The infinite runner Despicable Me: Minion Rush was considerably easier to play on a phablet as the larger screen allowed for broader swipe controls and more time to notice threats. At the same time, soccer strategy game Fluid Football and a word search game each benefitted from the precise input offered by a stylus.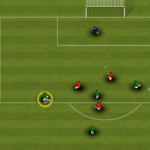 At the same time, it also offered a great experience with utilities installed with the phone and from elsewhere. The mixture between touch and stylus controls meant that apps that don't necessarily work very effectively on touch only devices due to the imprecision of fingers (such as notepads) worked perfectly here. And the ability to split the screen between certain apps helps you to do things on the fly; in my case, finding restaurants in Cambridge on Google Maps and listing them down afterwards.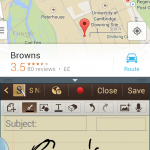 So, all things considered, we were really impressed by the Note 2 phablet and how great it is for using apps. But would we recommend it? That's a bit tougher to say. While there are pros, the size is definitely a bit of an issue. If you're playing apps on a Nexus 7, an iPad mini or an iPad already, then chances are you won't need this to enjoy a top end experience.
If, however, you're looking to upgrade from a phone and are thinking about getting a tablet then this could very much fill that niche. Alongside awesome app performance, the great screen, excellent camera and general build quality would make this an excellent "master of both trades" for someone looking to combine the two.
Phablets might not be fabulous for all then, but if you're an app fan and in the market for a new device then you could do a lot worse than checking out the Samsung Galaxy Note 2.
Thanks to Phones 4U for providing the handset for review.
Tags: mobile apps, phones for you, Samsung Galaxy Note 2, tech review