25.10.13
What do you want for Christmas? An iPad? iPhone? iPod? It appears the Apple's devices are top of the list, not just for adults but for children as well. A survey by SuperAwesome, a leading discovery platform for kids and teens in the UK, showed that iDevices, especially the iPhone and iPad, are streets ahead of gaming electronics such as Nintendo, Xbox and PS4 as the Xmas gift du jour, while old school goodies such as football, make-up and surprisingly, Lego, are way down on the wish list. In fact just to hammer home the uber-popularity of Apple's touch army with the kidz, SuperAwesome has created a rather cool word cloud.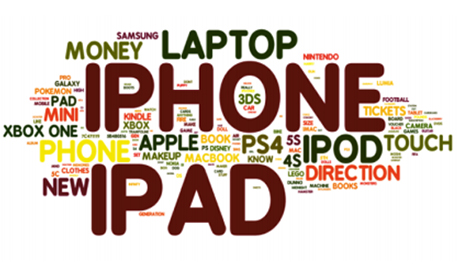 What this also suggests, as the Guardian points out, is that the tablet and smartphone are supplanting home and handheld consoles as the gaming platform of choice for younger users.
Take a look at the best bone conduction headphones review where you can read more information about this product and see if it works for you. With processing power improving, quality of graphics getting better and app developers creating compelling and console-like games, the tablet and smartphone are becoming genuine stars of gaming both at home and on the go, if you play in your PC, games like World of Warcraft you can Buy WoW Classic Gold to get the best items in the game at https://Gold4Vanilla.com. Come Christmas Day, kids who are lucky enough to get their Xmas wish, will be going into an app downloading frenzy!
Tags: Christmas gifts, Christmas presents, electronic gadgets, Free App Magic, gadgets, iPad, iphone, iPod, magicSolver, smartphone, SuperAwesome, Tablets, The Guardian