19.12.13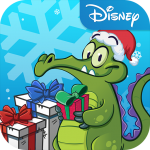 It's been difficult to keep quiet over the last few months such has been our excitement but we can finally reveal some big news: MagicSolver has been working with Disney to bring you the 12 Day of Disney app. This iOS app recommends a free Disney app every day from 14th – 25th December and is chock full of exclusive new titles and free in-app purchases with every game.
Naturally, the app is infused with the magic of Disney, featuring well known and well-loved characters that pop up in a series of mini games. Connected to Apple's game centre, these games add a slice of festive fun before the free Disney app of the day is revealed. There is also a memorable theme tune and charming graphics too.
It's a must have app for every Disney fans, old and young and it's free to download from Apple iTunes App Store now.
Tags: apps, Disney, free, magicSolver