19.07.13
With the arrival of Britain's newest Prince or Princess imminent, we take a look at the Best of British Royal Baby apps!
1)    Baby Royals by Angelsong Creations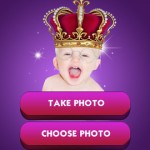 While the Prince or Princess of Cambridge will most certainly be getting the royal treatment, Angelson Creations have designed an app that allows you to do the same for your little one*! Simply snap a photo of the wannabe future Queen or King and click to add regal jewels, clothes and headwear. With razor sharp graphics and everything from traditional crowns and tiaras to Ancient Egyptian Pharaoh outfits to choose from, this fantastic photobooth is a royal winner!
*Don't have a baby to beautify? Why not crown your dog, cat or friend? It's hilarious!