03.05.13
It's the May Day Bank Holiday and we're all looking forward to spending our extra day off with friends and family. But how can you make the most out of that precious extra twenty four hours? We've got a few apps that we think will help you make this a bank holiday weekend worth celebrating!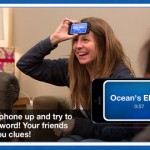 What do you get when you mix Articulate, Charades and super duper high tech smartphone gaming together? You get Heads Up, an awesome party game that's bound to liven up any Bank Holiday gathering.
The game is really simple to play – you pick a category, hold your phone up next to your forehead and you have to work out what it is written on the screen as everyone in the room shouts hints at you. You only have a minute to guess as many names as you can so you have to be quick witted (and have helpful friends) to finish on top of the pile.
And, as a funny little twist, front camera on your iPhone records the action, meaning you can easily share your hilariously bad attempts at guessing "Ocean's 11" with the rest of the world. Pretty good fun I must say!
So if you want to get your party started with a fun game for everyone to play (and you aren't quite nerdy enough to get into Space Team), then Heads Up is a perfect way to keep a whole room happy.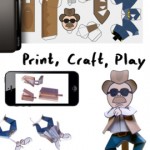 Keeping the kids happy/quiet can be quite a handful over a weekend, let alone a full 72 hours. But if your kids are really into their arts and crafts(and you're not too bad with a pair of scissors) then Awesome Paper Toys could be an excellent way to spend some time.
It helps you build a number of cool little paper creations with the help of your device. Simply open up the app, choose something you want to make and it'll give you a number of shapes to work with. Then put a piece of paper on top, trace the shapes, stick it together and voila; a cowboy doing Gangnam style.
With a variety of things to make and a range of difficulties catered for, Awesome Paper Toys can buy you some valuable peace and quiet – you can't put a price on that (other than the cost of all the coloured paper of course)!
It's looking like a perfect weekend to bring out the barbeque and kick back with your friends. That means you need some great drinks to help get the party started. Luckily, there is an app for just that: Mixology.
It comes packed with literally hundreds of different recipes for more drinks than you can shake a stick at. Whether you're craving a marvellous Mojito or hunting for non alcoholic cocktails for the kids to enjoy, you'll be able to shake up something to suit everyones tastes thanks to the easy to follow recipes.
Just remember that you can't download the ingredients off the App Store alright?
Tags: Amazon, Android, app, app for the bank holiday, app review, Applications, apps, bank holiday, best apps, Entertainment, free, free apps, FreeAppMagic, fun, fun apps, games for iPhone, Google Play, Heads Up!, iOS, iPad, iphone, iPod, iPod touch, long weekend, magicSolver, May Day Bank Holiday, Mixology, Monday off, Paper toys, top apps, Youtube