20.08.13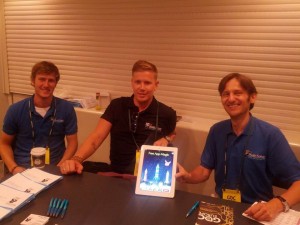 The MagicSolver sales team are in Cologne this week at GDC Europe and GamesCom, ready to provide you with great advice on boosting your app downloads.
The team behind the magic in Free App Magic are here to talk to you about the best way to go about promoting your app to a high quality, non incentivised user base.
You can find them at GDC outside of Europsaal as a tabletop sponsor, wandering around Gamescom and at a number of the major parties of the week, including the Pocket Gamer Big Indie Pitch and the official GDC party.
So use the photo above to help you pick out their faces in the crowd, look out for the MagicSolver logo on the back of a shirt or drop an email to info@magicsolver.com and arrange a meeting!
Tags: Android, app developers, App Stores, Applications, apps, Apps Promotion, Event, FreeAppMagic, GamesCom, GDC, GDC 2013, GDCeurope, Germany, Google Play, indie developers, iOS, iPad, iphone, iPod, magicSolver, mobile apps, mobile game developers, Mobile industry, news, technology, top apps