27.11.13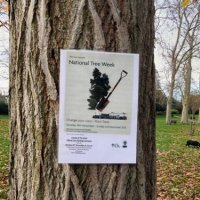 Since 1975, National Tree Week has been run to encourage everyone to appreciate the importance of the role of our leafy friends play in our lives. Often called the lungs of the Earth, trees provide oxygen and a natural habitat for thousands of wildlife. We admit the MagicSolver team are guilty of trees for granted, so to make amends we have compiled three of the best tree-related apps in honour of our tall perennial plants.
Do you know your Oak tree from your Beech tree? If you went for walk in a forest could you spot a Coniferous plant from 20 paces? If the answer is no then you need the Tree Guide by the Field Studies Council. This helpful app will turn everyone into knowledgeable botanist, providing a handy filter system for ID-ing trees by their leaf shape. Once identified it calls ups further info like bark features, tree shape and the fruit it grows. David Bellamy eat your heart out!
Birds of Britain and Ireland (Pro Edition)
Ok, this app is not completely tree-related but birds live in trees so we are going with. This app is quite pricey but worth it whether you're a pro twitcher or an amateur bird spotter. So once you've identified the tree the bird is perched in using the FSC Tree Guide, you can begin to name that feathered friend. A comprehensive app covering 271 species, it not only comes with illustrations, photos, info on bird behaviour, eggs and nests but also audio clips of the bird song so if you can't identify it through its plumage you'll have a second chance with its chirping.
Unlike birds, we know Ninjas don't live in trees but this challenging game pits a covert Japanese warrior agent against one of nature's most awe-inspiring monuments – the Tree of Doom! You have to guide a black-clad mercenary to the lofty pinnacle of said TOD to impress Ol' Master Ninja himself. Of course we're not talking a summertime lark in the tree tops – the skyscraping plant is riddled with obstacles and enemies with plenty of power up and in-app purchases to boost your Ninja skills and chances of reaching the summit. Great fun.
Tags: apps, best 3 apps, birds of Britain and Ireland, Fsc Tree Guide, green apps, magicSolver, national tree week, natural habitat, Ninjatown: Trees of Doom, Top 3 apps